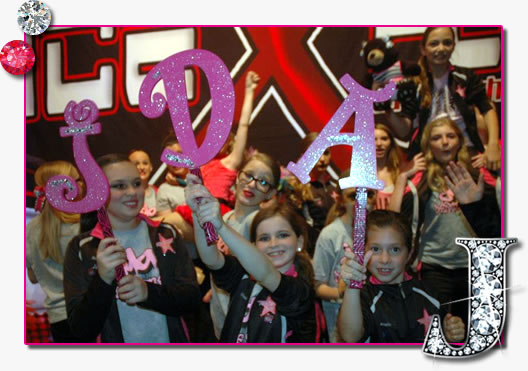 Along with our regular dance program, JDA has a Competitive Dance Team, a Performance Dance Team and a Ballet Ensemble for students wanting additional dance opportunities. Each year members audition to become a part of these groups.
Our JAM Competitive Dance Team is composed of a dedicated group of students (age 9 & up) who are committed to furthering their dance education by taking additional classes that concentrate on technique, skill and the mastering of choreography to enhance their over-all performance. During their year-long commitment, JAM team members perform at many community events, as well as represent JDA in three Dance Competitions each spring.
Our All-Starz Performance Team is a group of dynamic students who love to perform and be on stage. Our All-Starz Performance Team consists of three groups; Shooting Starz (age 4-6), Rising Starz (Jazz age 7 & up) and Shining Starz (Clog age 7 & up). During their year-long commitment these groups have the opportunity to perform at various events through-out the community. The Rising Starz and Shining Starz also participate in one competition during the spring.
For the serious ballet dancer, we offer JAM Ballet Ensemble. This group (age 7 & up) is dedicated to promoting Ballet in our area. During their year-long commitment, this group introduces the grace of ballet to the community by performing at various events.
2018 - 2019 JAM & All-Starz News:
Saturday Tech Class Dates
October 6, 2018 - (1:00pm - 4:00pm)
October 20, 2018 - (1:00pm - 4:00pm)
November 3, 2018 - (1:00pm - 5:00pm)
November 17, 2018 - (1:00pm - 5:00pm)
December 8, 2018 - (1:00pm - 4:00pm)
Sunday, December 16, 2018 - (2:00pm - 5:00pm) Company Christmas Party